THE COLLABORATION BETWEEN BLUE MARINE FOUNDATION X LØCI WORKING TO PROTECT OUR OCEANS.
LØCI have teamed up with Blue Marine Foundation, a charity dedicated to restoring the ocean to health by addressing overfishing, one of the world's biggest environmental problems.
The ocean is the world's largest carbon sink: by combating overfishing, we can help life in the ocean perform its vital function of stabilising the Earth's climate.
Supporting BLUE
"Sustainability is at the heart of everything Blue Marine Foundation (BLUE) does, so we're delighted to partner with LØCI in launching this exclusive vegan trainer, designed by our Trustee, Sofia Blount. BLUE is dedicated to securing marine protected areas, restoring marine habitats, tackling unsustainable fishing and connecting people with the ocean.  With 100% of BLUE vs LØCI profits going to the charity, we are able to do more of this crucial work."
- Jo Coumbe, Head of Communications at Blue Marine Foundation
"I am delighted that through the sale of this shoe, LØCI will be financially supporting BLUE's critical work. I'm very proud that BLUE is one of the first ocean charities to benefit from an exclusive shoe with the brand, which puts sustainability at the heart of it's operations."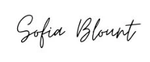 A Cleaner Tomorrow
Every pair of LØCI's are made from premium repurposed ocean and land plastic. We don't look to imitate leather, we use innovative materials that are creating a cleaner tomorrow and not leaving a problem for future generations to deal with.